AllState Security Services: Hired Security
Whether you are hosting a trade show, expo, or convention, it is vital that you have adequate security services. AllState Security Services provides trade show security to help you ensure that all your guests and vendors are kept safe and sound. No matter the size of the event, large or small, it is important that you consider your guests' well-being. At any sized gathering, things can go wrong. That is why our trained security guards will be present and attentive throughout the entire event. With our security services, you will be able to focus on the other important things, such as planning the event. When you give us control of the security of your event, you choose to put yourself and your guests in the hands of safety.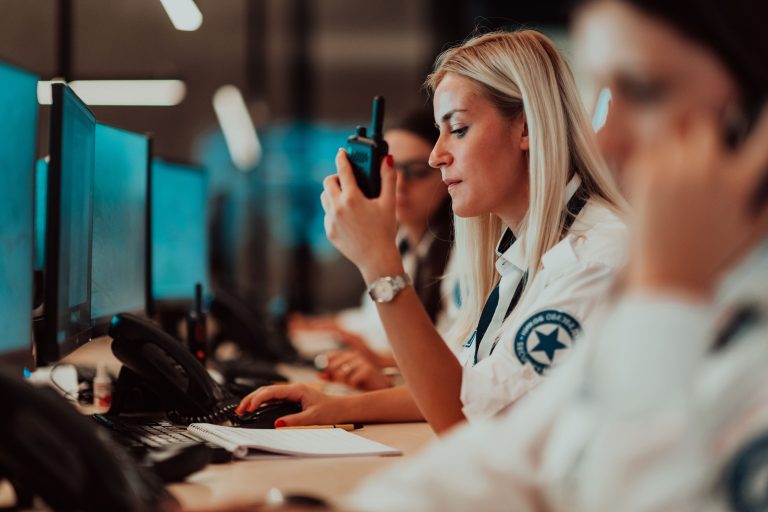 What Is Trade Show Security?
Trade show security is a proactive system that allows everyone and everything that is present at a trade show or other event to be secure and safe. With our hired security team, you will be able to feel safe and comfortable at your event, knowing there are both armed and unarmed security guards present. Our trade show security is high-level and comprehensive. We work hard to ensure that problems are resolved before they turn into larger issues. Our licensed and trained professionals are vigilant, and they pay attention to all of the details during an event. Trade show security will ensure that all of the valuable items present are secure and that all guests stay safe and out of danger. A trade show security system is necessary to create a safe environment where everyone can enjoy their time and get their jobs done.
Why Do I Need Trade Show Security?
Trade shows often feature a variety of goods and valuable items combined with large crowds. This can be a security risk if not appropriately handled. Trade shows, expos, and conventions may also feature celebrities or other important figures. These people also need to be secured and protected along with the guests, vendors, and exhibitors. Trade show security allows everyone to be kept safe from one another and safe from intruders. Trade show security also stops theft and property damage. With AllState Security Services' security professionals present, you won't have to worry about your trade show turning into an unsafe place. You may need our trade show security team if:
You Don't Have a Security System Already

You Are Organizing a Trade Show and Want to Prevent Danger

You're Obligated by Insurance to Hire Trade Show Security

You're Trade Show Is High Risk

You Are Managing an Active Trade Show

You Desire a Solid Defense Plan for Your Event

You Want to Minimize Business Liability
The Benefits of Private Expo Security
When you choose AllState Security Services to protect your trade show, expo, convention, or another event, you are choosing to protect everyone involved. That means guests, vendors, performers, other staff members, and everyone in between. The benefits of hiring our private security team to secure your event include:
Trained Professionals — Our trained professionals are capable of handling various situations, and we pay attention to all the details. There will be nothing overlooked when we are present.

Crowd Control — We, as a team, will manage the crowds of people. We can even put up temporary fencing or gates to manage the crowds and foot traffic.

Enhance Professionalism — With our professional security guards present, everyone in attendance will feel more comfortable and confident in their being at the event.

Peace of Mind — Trade show security guards take care of the security while the event organizer can focus on managing the event. Take something off your to-do list and trust our professionals to give you peace of mind.

Point of Authority — When guests need help, they will know that they can speak to one of our team members to get the help they need.

Traffic Management — Not only do our security guards ensure that everyone is safe inside of the event, but also when they are parking and entering the event.
Why Should I Choose AllState Security Services?
AllState Security Services is a nationwide business that provides private security services to trade show hosts, event planners, residential communities, commercial buildings, and more. We are experts in securing environments and ensuring the safety of everyone on the premises. Our security guards are extensively trained and fully licensed to provide high-quality security. We have an A+ liability insurance policy provided by an A+-rated insurer for your peace of mind. Our team stays up-to-date on all the modern protocols and equipment to ensure that our services are as effective as possible. Our professionals offer the highest level of commitment to your safety. We employ only the best team members so that you can feel confident in your choice of choosing us.
Our Convention Security Services
No matter what kind of surveillance you need for your convention, trade show, or other events, we can provide it. AllState Security Services provides high-quality, comprehensive security services across the nation. Our security services are tailored specifically to you and your needs so that you can gain peace of mind knowing that your event is secure. We know exactly how to create a safety security plan for each venue. No matter the size of your event, our services will be just as effective as ever. As part of our convention security services, we provide:
Our Priority Is Your Safety
At the forefront of everything we do is the consideration for your safety. Our comprehensive security services are provided so that you and your business, home, or event stays secure and safe. No matter what type of security you are looking for, AllState Security Services provides it. With national recognition, we are confident in our ability to secure your environment, no matter the size or type. We have spent years supplying high-quality security services for various clients, including event planners, wedding organizers, residential communities, industrial facilities, and more. We provide comprehensive services so that every aspect of security is covered. From the beginning of your event to the very end, we will stand on guard, ready for anything.
AllState Security Services Is Here for You
AllState Security Services is prepared to keep you and your trade show safe. With trade show security available in Denver, CO, Madison, WI, and San Diego, CA, you can be confident that your guests and all their belongings will be kept out of danger. We strive to give everyone peace of mind at every event they attend. Trade show security is necessary to ensure that the event is successful and that no one gets harmed in the process. Our security services have been nationally recognized, and our entire team is fully licensed and insured to provide high-quality security. If you are planning a big event, trade show, concert, convention, wedding, or anything like it, we are your number one choice for protection. Over the years, we have perfected our security protocols, and we use only state-of-the-art equipment for surveillance. With us present, you can get back to focusing on the important things. Reach out to our security professionals today to schedule our services for your next trade show.