CONCERT & FESTIVAL Security
Reliable Concert & Festival Security in San Diego, CA
AllState Security Services: Safe Event Security
AllState Security Services knows how festivals and concerts can get out of hand. While people are enjoying themselves at a music venue, things can accelerate quickly as the crowd's energy increases. It is vital that you have reliable, safe security services during these large events in order to prevent injury and property damage. Our concert and festival security services are available in San Diego, CA, Madison, WI, and Denver, CO. No matter what type or size of event you are hosting, security is vital to keeping things orderly and safe for every person present. Our trained security guards are effective, fast, and safe. We can handle all of the important things such as crowd control, ticketing, disorderly guests, and first responder organization.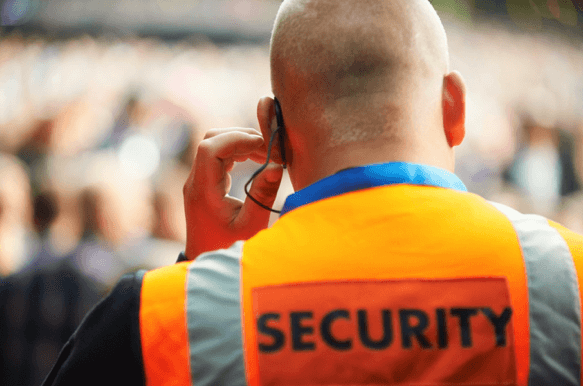 How Do I Know If I Need Security Guards at My Event?
Knowing whether or not you should have our security guards present at your event can sometimes be hard to determine. For most concerts and festivals, it is crucial that you have concert or festival security. This is because the crowds at concerts and festivals are usually greater in number. Additionally, at festivals and concerts, you can expect that there will be important or famous people in attendance who need to be looked after. Crowds at festivals and concerts can sometimes get out of hand and become unruly. With our security guards present, each dangerous situation will be de-escalated quickly and thoroughly.
The Vital Tasks for Maximum Arena Security
Whether the concert or festival is taking place in an arena, stadium or another venue, it is necessary that our security guards maintain the crowd and maintain the boundaries of the event space. AllState Security Services ensures that we always have enough trained guards on site for the size of the event. Every hired guard that we have on our team is licensed and insured so that you can feel confident when choosing us to protect and maintain your event. The vital tasks that our security guards perform at festivals and concerts include:
Create a Detailed Security Plan — A detailed security plan allows our guards to be completely prepared for any type of issue to occur.
Search Bodies & Bags — Searching guests and their belongings ensures that no one is bringing in firearms or other weapons.
Entrance & Exit Security — Securing the entrances and exits ensures that only paying guests are able to enter and exit the facility.
Patrolling the Boundary — Our security guards will patrol the boundaries of the facility to make sure that unruly guests remain outside of the event.
Patrolling In-Event — As we patrol inside the event, we will be on the lookout for signs of danger or any potential hazards, whether near the stage or around the vendors.
Maintaining Order — With large crowds, it is necessary that order is maintained. Our team will ensure that crowds remain orderly, and guests remain safe and secure.
Excellent Communication — Throughout the entire event, our security team will communicate with guests, other event staff, and each other to ensure a smooth evening.
Control Traffic Flow — Traffic flow needs to be controlled in order to prevent injury or even death. We use numerous methods, like structures, to control traffic flow throughout the venue.
Securing Stages and Vendors — Not only are we present to ensure the crowds' safety, but we will also make sure that all performers and vendors are kept safe and secure as well.
Fast Response Time — We respond to all emergencies as fast as possible. With constant surveillance by eyesight and technology, there won't be an instance that we overlook.
The Benefits of Having Festival Security
Festival security is critical to ensuring that the event stays safe for all guests. With our festival security services, you can be confident and comfortable knowing that your event will be able to run smoothly. Our security professionals will ensure that everything is orderly and that the event can continue to go on. Festival security maximizes everyone's safety, allowing guests to enjoy their experience thoroughly. The benefits of having our security guards enforce festival security at your event include:
Prevent Overcrowding — Most festivals and concerts will experience a large volume of people in attendance. Our security guards will ensure that no one is overcrowding each other in the crowd and that the flow of foot traffic maintains a safe level.
Reassure Guests — We are responsible and authoritative. This gives guests the comfort of knowing that our security team is in charge of how things play out. We will ensure that each guest remains in a safe environment.

 

Maintain Reputation — Without proper

event security

, a festival may get a reputation for being poorly secure and safe. With our team of professionally hired guards, you can be sure that your name will be secure just the way your event will be.
Professionally Trained — Every one of our security guards is highly and professionally trained to handle large and small events. Our team is equipped to handle anything that takes place, and we will respond quickly to any incidents.
Point of Authority — Our security guards can help guests feel safe by being the point of authority. If guests need help or feel unsafe, they are able to approach our security staff, and we will assist them.
Ensure Your Arena Is Safe With Concert Security
Those attending concerts will be excited and overwhelmed while they are visiting your venue. It is necessary that you have our security guards present in order to keep everything and everyone under control. Our security guards are highly trained to attend to guests' safety needs. With us at your concert, you won't have to worry about unfortunate events from taking place such as injury. We will be with you and your guests from start to finish. Our team will incorporate safety measures, including identifying soft targets, creating a security plan, communicating clearly, and organizing temporary fencing. These components are vital to the success of your event. Identifying soft targets allows us to take action before something dangerous occurs. We strategize a security plan that identifies all of the risky areas of the venue. While communicating these dangerous areas, we will implement plans to ensure guest safety. Organizing temporary fencing allows us to control the flow of foot traffic throughout the crowd.
Our Event Security Priorities
When you choose us to protect your concert or festival from danger, you choose the safety and success of your event. With our team on your side, you will experience a smooth and safe environment in which everyone can have fun, including both guests and staff. Over the years, we have implemented the necessary security measures, including remote monitoring systems, to ensure that large groups of people are well-maintained. At the top of our priority list is the safety of everyone present. We take extra precautions to ensure that everyone attending to event stays safe and out of harm's way.
Who Is Responsible for Providing Concert Security?
Typically, the organizer of the event is in charge of providing concert security. This means that whoever is hosting the concert or festival needs to ensure that they are hiring a security service that can meet the needs of the specific venue. With our trained professionals, you can count on us to provide the correct amount of armed and unarmed security guards for each event. The organizer of the event is required by law to understand security regulations and abide by them. In addition to security guards, there may be other methods of security involved, such as:
Video Surveillance
Gates and Fencing
Adequate Lighting
Guest Screening
Security Alarms
Metal Detectors
Contact AllState Security Services Today
Over our many years in business, we have become reputable for our sophisticated and professional services. We have expanded across the states and become a reliable national resource. AllState Security Services' festival and concert security services are available in
San Diego, CA
,
Madison, WI
, and
Denver, CO
. No matter what type of event you are hosting, our services are available to you. In addition to festivals and concerts, we secure events such as trade shows, sporting events, weddings, and more. With our security services, you will have peace of mind knowing that you can focus on the important things while we take care of the rest. All of our security guards are highly trained professionals who know how to secure venues properly. Take a step back and let us handle your safety. We promise you are in good hands.
Reach out to us today
to discuss the security of your next concert or festival.